About Jonathan Grossman
Jonathan Grossman was a Toronto-based Internet Application Design Specialist, providing analysis, vision, project management and development services to Internet website initiatives.
Jonathan began using the Internet long before the commercialization of "the web" in 1995, parlaying that knowledge into a year-long series of lectures and speaking engagements across Canada to promote strategic Internet awareness.
In 1996 Jonathan began providing consulting services to early adopter businesses, government and not-for-profit organizations, helping them to identify and plan their online objectives.
In 1998, Jonathan incorporated as TheOffice.com Inc., returning to application design and focusing himself and his company on the development of a new breed of integrated technologies for enabling cost-effective web initiatives.
Jonathan married his sweetheart, Julie, and they had two wonderful children, Jessica and Jason, now teenagers.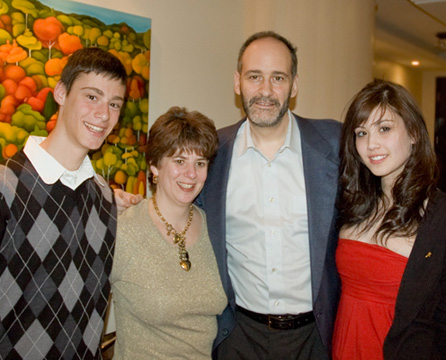 Jonathan and family at Seder event 2009

Recently, Jonathan was diagnosed with a very rare bone marrow disorder called "Myelofibrosis" and his only hope for survival was a bone marrow transplant.
Jonathan's bone marrow transplant took place at 11am, Wednesday July 29th, 2009.
On Day +28, Jonathan's family was supposed to see if the bone marrow was working. The family was told that despite their efforts, things could not go on.
In his 47th year, after a valiant and courageous battle with myelofibrosis, Jonathan passed away peacefully on Sunday August 30, 2009.
Jonathan leaves behind the loves of his life - the 3 J's - Julie, Jessica and Jason and survived by his loving parents, Dr. Harold Grossman, Faigy Nightingale Grossman and his father-in-law Moishe Simon.
Jonathan will remain in the hearts of his many family, friends and colleagues.
After a successful bone marrow donor drive, the family wishes to acknowledge all who participated, Gift of Life (Florida) and to especially thank his anonymous donor who gave him a second chance.
The family would also like to thank Drs. Loach and Lipton and their patient-care focused medical team for their compassionate support during this time.
If you would like to leave a message for the Grossman family, please visit his daughter Jessica's blog at: www.jonathanatthehospital.blogspot.com
Memorial donations may be made to the Princess Margaret Hospital Foundation - Bone Marrow Transplant Unit 416-946-6560, www.pmhf.ca or the Crohn's and Colitis Foundation of Canada (416) 920-5035, www.ccfc.ca.
With heartfelt thanks for your support,

Friends, Family and Employees of TheOffice.com